Stocking Distributor For BJM Pumps & BJM Pump Parts
---
BJMElectric Submersible Pump w/ Vortex Impeller
* Overnight Shipping Available!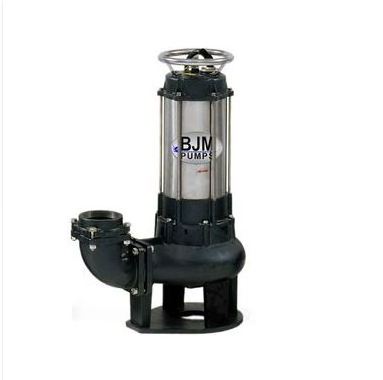 Part #:SV250-115
SV-pumps are equipped with Vortex impellers, undoubtedly the best non-clog impellers ever invented for the handling of mud, raw sewage, viscous liquids, rags, wood chips and other solids. They pass solid up to 90% of pump outlet diameter. 304SS Motor Housing Superior abrasion resistance will not wear out like aluminum motor housings when pumping sandy water. Three Seal Motor Protection - Motor is protected by double mechanical seals. Lower seal made of silicon carbide/silicon carbide and upper seal is made of carbon/ceramic. An additional lip seal has been installed above the impeller, to help prevent abrasives such as dirt, silt or sand, from entering into the seal chamber. More Motor Protection Winding protection and (NEMA) Class F motor insulation allows motor temperature to raise to 230F, superior to pumps with Class A and B insulation. Automatic switch turns pump motor off if temperature and/or amp draw raises too high. When the motor cools the switch will automatically reset and the pump will turn back on. Tough Pump Construction Hardened cast iron stands up to rough handling and pumping sandy water unlike pumps with soft resin impellers or plastic exterior components.

Key Features
:
Horsepower - .33
Volts - 115
Rated Amps - 4
Max GPM - 51
Phase - 1
Slurry pumps are used to increase the pressure of the mixture of liquid solid material better know as slurry. This can be used in both mining and waste industries. Pump Express stocks several models of slurry pumps.

Additional Information (PDF)
:
Electric Submersible Pump w/ Vortex Impeller Specification
Electric Submersible Pump w/ Vortex Impeller Performance curves
Electric Submersible Pump w/ Vortex Impeller Product Brochure