Stocking Distributor For Goulds Pumps & Goulds Pump Parts
---
GouldsMulti-Stage Centrifugal Pump
* Overnight Shipping Available!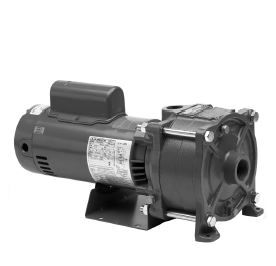 Part #:HSC15
Multi-stage Design: Provides steady, quiet and vibration-free operation for years of trouble-free service. Impellers: 20% glass-filled thermoplastic precision molded for high efficiencies. Compact Design: Close-coupled, space saving design provides easy installation. Flexible coupling and bedplate not required. Mounting: Can be mounted in vertical or horizontal position. Stainless Steel Pump Shaft: Hex design provides positive drive for impellers and eliminates clearance adjustments. Corrosion Resistant: Stainless steel wear rings and coverplates. Electro-coated paint process applied inside and out and then baked on. O-rings: Throughout for positive sealing. Easy to Service: Can be taken apart for service by removing four bolts. Motor: Close coupled design. Ball bearings carry all radial/axial thrust loads. Designed for continuous operation. All ratings are within working limits of the motor. Available from 3 HP.
Applications
General purpose pumping Water circulation
Booster service
Liquid transfer
Spraying systems
Jockey pump service

Key Features
:
Horsepower - 1 1/2
Single Phase
Stages - 2
Goulds process pumps are sold through Pump Express. There are a variety of process pumps to choose from, depending on what they will be used for. Goulds process pumps are involved in the movement of fluid in industrial settings. From centrifugal to positive displacement pumps, Goulds process pumps have a high efficiency and are very reliable.

Additional Information (PDF)
:
Multi-Stage Centrifugal Pump Specification
Multi-Stage Centrifugal Pump Product Brochure