BarnesSubmersible Non-Clog Pump 3SEV1052L
* Overnight Shipping Available!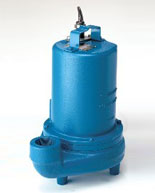 Part #:105008
Pump Express is a stocking Barnes manufacturers distributor and a worldwide Barnes pump and pump parts supplier. We have Barnes Submersible Non-Clog Pumps 3SEV1052L and parts for sale. For help selecting the right pump and pump replacement parts call our Barnes Pump Hot Line at 1-800-298-4100
2" Spherical Solids Handling
Vortex, Single Seal
Designed for typical raw sewage applications.
Key Features
HP - 1.0
Volt/PH - 600/3
Hz - 60
RPM - 3450
Nema Start Code - L
Full Load Amps - 2.9
Locked Rotor Amps - 8.7
Cord Size - 14/4
Pump Express sells a variety of options for Barnes sewer ejector pumps. These pumps have practical applications in all settings, working mostly in conjunction with bathrooms and laundry rooms that are below public or private sewer lines. With the Barnes sewer ejector pumps provided through Pump Express, solids and liquids are able to be moved upward, allowing it all to be transferred into the main sewage system.

Additional Information (PDF)
:
Submersible Non-Clog Pump 3SEV1052L Specification
Contact a pump specialist to assist you in finding the right pump or pump part. Our Factory Authorized pump experts can help you find the best solution and the GUARANTEED LOWEST PRICE !

Call 1-800-429-0800

Mon - Fri :

7AM to 6:00PM EST

Saturday :

7AM to 4:30PM EST
For more information on our Barnes Submersible Non-Clog Pump 3SEV1052L 105008 call PumpProducts.com at 1-800-429-0800.
PumpProducts.com – Your Trusted Source For Barnes Submersible Non-Clog Pump 3SEV1052L 105008!