Little GiantCirculator Pump CMD-100-5B
* Overnight Shipping Available!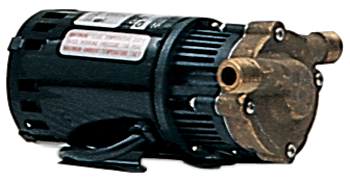 Part #: 579200
Specialty Pumps CMD-100-5B
Little Giant Circulator Pumps have been specifically developed for applications in solar heating, heat exchange units and open or closed commercial and domestic hot water recirculating systems. The pump features dual fan cooling for increased motor life, balanced drive magnet which prevents premature motor wear and oversized bearing oilers for extended bearing life. The non-self priming, inline use circulator units are capable of pumping liquids at temperatures up to 212 degrees F., 100 degrees C., and withstanding line pressures up to 150 PSIG. The circulator pump motor can be easily removed without removing entire unit after installation. Ryton impeller, bronze volute, stainless steel shaft and magnet separator and silicon O-ring.
Key Features
Horsepower 1/25
Flow 372 GPH @ 1 of Head
Cord Length 6
Shut Off 12
Voltage 115
Hertz 50/60
Amps 1.2
Watts 106
For both environmental and monetary reasons, many people are now switching to solar power. Solar pumps are used to distribute water from wells via solar power. Pumps Express stocks different brands and models of solar pumps.

Additional Information (PDF)
:
Circulator Pump CMD-100-5B Specification
Circulator Pump CMD-100-5B Product Brochure
Contact a pump specialist to assist you in finding the right pump or pump part. Our Factory Authorized pump experts can help you find the best solution and the GUARANTEED LOWEST PRICE !

Call 1-800-429-0800

Mon - Fri :

7AM to 6:00PM EST

Saturday :

7AM to 4:30PM EST
For more information on our Little Giant Circulator Pump CMD-100-5B 579200 call PumpProducts.com at 1-800-429-0800.
PumpProducts.com – Your Trusted Source For Little Giant Circulator Pump CMD-100-5B 579200!