Blue AngelODS30 - 1/2 HP High Head
* Overnight Shipping Available!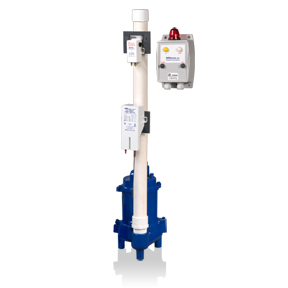 ODS30 - 1/2 HP High Head
Oil Detection System for Elevator Sump Pumps
The Oil Detective is designed to detect and alert of the presence of oil in various applications. The Switch is designed to adjust the on and off points to help prevent pumping oil into disposal systems. The alarm will alert of oil presence or high water conditions. The Oil Detective will monitor, watch and control the application the detective is always on duty.
* 50 GPM @ 20
* Durable Cast-Iron Design with Heads Up to 60
* System Includes: Pump Controller, Audible Alarms With Test and Silence Switch, Visual Display Lights, Preset On and Off Points, 20 Piggy-Back Switch Cord, UL508 Approved Switch
* Typical Applications: Hydraulic Elevator Sumps, Transformer Vaults, Garages, Anywhere Oil Needs To Be Detected To Comply with ASME 17.1 and Other Building Codes.
* Manual Operation - No Switch
IMPELLER
* Cast-Iron Casting
* Recessed (Vortex) Design Reduces Bearing Load / Increased Bearing Life ane Prevents Clogging
SHAFT SEALS
* Full Mechanical Seal (Carbon/Ceramic) For Extra Protection and Longer Life
MOTOR
* Permanent Split Capacitor Design for Assured Starting and Strong Torque
* Internal Overload Protection
* 20, SJTW Power Cord
* Shipping Weight, 52 lbs
Key Features
Oil Detection System
Pump Water Not Oil
High Head Pump
Pump Express has Blue Angel elevator sump pumps available for purchase. Blue Angel elevator sump pumps are a way for elevator sump pits to be monitored in terms of water and oil levels. If there is water in the elevator pits, the Blue Angel elevator sump pumps we provide can remove the water and ensure that oil and other harmful substances are not dispersed into the environment. Not only do elevator sump pumps monitor elevator pits, but they also will monitor transformer vaults and other locations where water or oil may potentially be detected. These pumps are a safety mechanism that will sound an alarm when there are high levels of water or oil present.

Additional Information (PDF)
:
ODS30 - 1/2 HP High Head Specification
ODS30 - 1/2 HP High Head Product Brochure
Contact a pump specialist to assist you in finding the right pump or pump part. Our Factory Authorized pump experts can help you find the best solution and the GUARANTEED LOWEST PRICE !

Call 1-800-429-0800

Mon - Fri :

7AM to 6:00PM EST

Saturday :

7AM to 4:30PM EST
For more information on our Blue Angel ODS30 - 1/2 HP High Head call PumpProducts.com at 1-800-429-0800.
PumpProducts.com – Your Trusted Source For Blue Angel ODS30 - 1/2 HP High Head !